Okay, so this was the stupidest idea of all, and it was a hell of a lot of fun. Nick Caddaye wrote the book, I wrote the music and lyrics, and it was the sim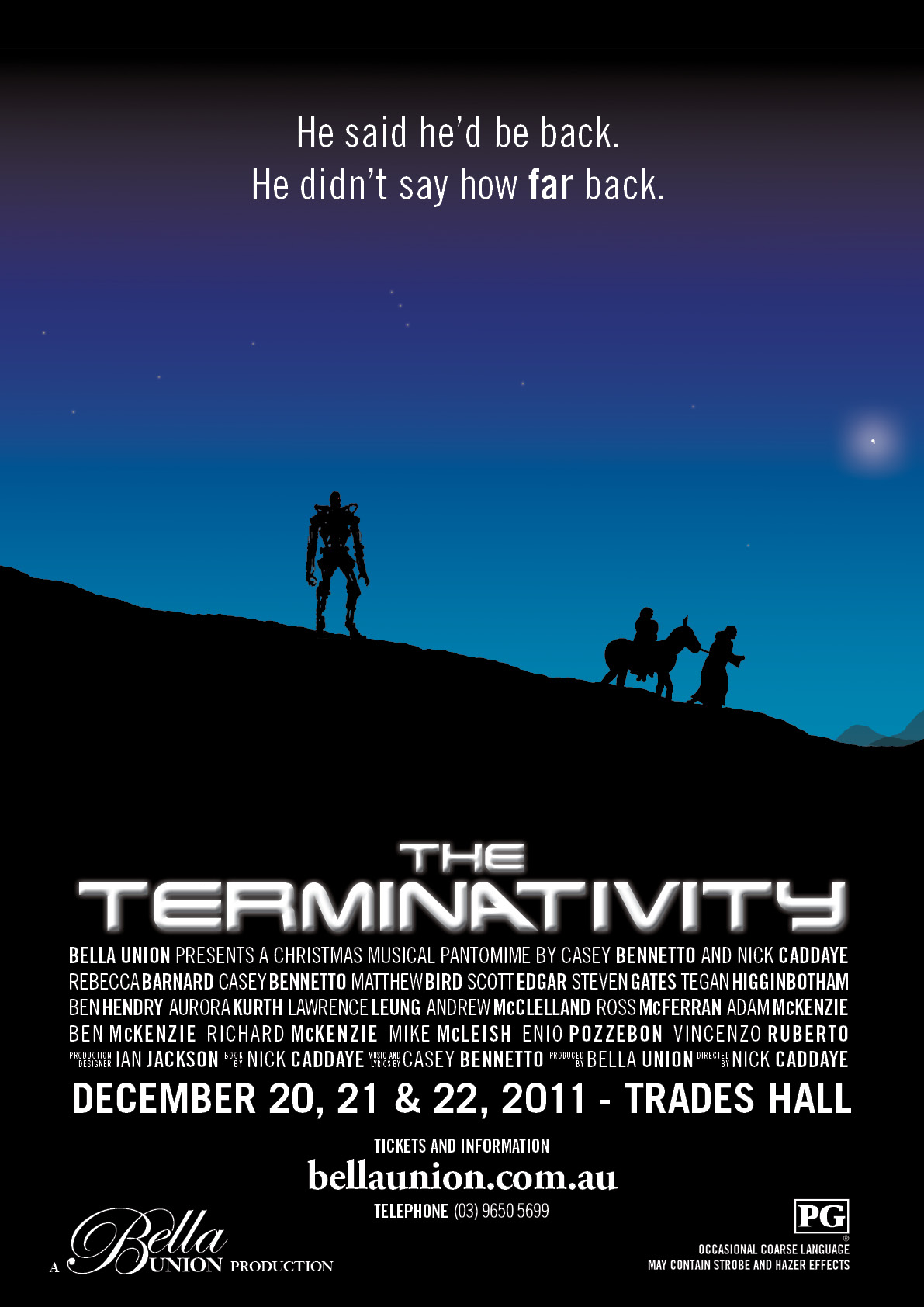 ple time-honoured tale of Joseph, Mary, Gabriel and an unstoppable killing machine from the future. As someone put it, "it's the Greatest Story Ever Told… mixed with the Nativity".
It was staged at (and produced by) Bella Union as a kind of one-night surprise as part of 2010's A Very Bella Christmas, and reemerged the next year as a full two-act Christmas pantomime. The cast was so large – and the run so short – that it was a financially prohibitive show to stage; if it does return, there shall have to be – he paused meaningfully – changes. But the cast were all terrific, and it was a great way to see out 2011.
The original cast was (deep breath): Steven Gates, Aurora Kurth, Mike McLeish, Tegan Higginbotham, Richard McKenzie, Ben McKenzie, Andrew McClelland, Lawrence Leung, Scott Edgar, Rebecca Barnard and Dave Bushell (and Adam McKenzie stepped up brilliantly in 2011 when Dave was unavailable.) The band featured Enio Pozzebon, Vincenzo Ruberto, Matt Bird, Ross McFerran, Ben Hendry and myself. The whole thing was directed by Nick; I was MD.
We hope it'll be back.
Joey And Mary
Come With Me (If You Want To Live)
Footprints
He's Crazy
I'll Be Back
Come With Me (If You Want To Live [Reprise])
How It All Turns Out
Calm The Flock Down
Bethlehem
Wise
Alone (Mary's Song)